If you're looking for the best cosmetic dentist in Parramatta, you need look no further than Dental Care Parramatta.
Some of the cosmetic dentistry services we provide are:
Dentures
Dental crowns & bridges
Invisible braces
Dental vaneers
Whether you have a chipped or broken tooth, crooked teeth, stained teeth, or even missing teeth, we have the tools to get you smiling with confidence.
Our experienced team offers a range of cosmetic dentistry services to fit every need.
If you need the best cosmetic dentist in Parramatta, contact us and see all that we can do to transform your smile.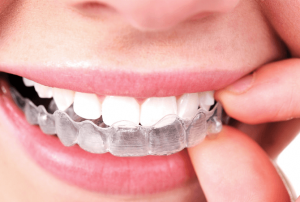 Our Cosmetic Dentistry Services in Parramatta…
Stained teeth can affect confidence and detract from your appearance. However, with our professional tooth whitening they can easily be restored to give you a bright, white smile.
Dentures
Dentures replace a full set of teeth. Our dentures can restore your appearance and improve your bite, chewing, and speech.
Dental crowns
Crowns are used to repair weakened or damaged teeth, especially after a root canal. We match our crowns to the shape and colour of your tooth before the damage, to restore the appearance and strength of your tooth.
Dental bridges
Dental bridges can replace a missing tooth or even multiple missing teeth.
Invisible braces
Struggle with crooked teeth but don't want to deal with unsightly metal braces? You can have the best of both worlds with our invisible braces, which straighten your teeth just like traditional braces would while remaining virtually unnoticeable in your mouth.
Dental veneers
Veneers are similar to crowns, but smaller and used to hide imperfections on only one surface of the tooth. They can improve your look and protect your tooth.
Contact us to talk to the best cosmetic dentist in Parramatta and you'll be on your way to a beautiful smile you can feel confident in!